fNIRS Lab - A laboratory for applied NeuroIS research
NeuroIS fNIRS Lab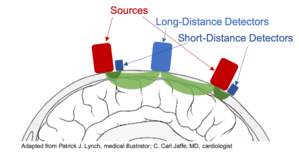 Our NeuroIS Lab is equipped with the neuroimaging method of functional near-infrared spectroscopy (fNIRS). fNIRS allows us to measure neural cortical activity of the human (or animal) brain. This enables us to measure critical processes in decision making, cognitive processing of information and emotional (neural) responses. These measurements go beyond the usual research methods of business information systems in the sense of observations, interviews, and questionnaires and thus, they provide a deeper understanding of human information processing.
What fNIRS actually measures:
fNIRS uses the ability to send light through tissue. Thereby, light of specific wavelengths is reflected by oxygenated hemoglobin or absorbed by deoxygenated hemoglobin. The reflected or absorbed light can be recorded with detectors, which allows us to calculate the oxygen contained in the blood. This provides an accurate measurement of local neural activity, since increased oxygen levels are an indicator for increased neural activity of the given area. In order to reach the cortical brain regions without too much light being reflected by extracerebral tissue, the sources and detectors of fNIRS should be approximately 30 mm apart. In order to intercept light which is reflected on the surface due to the blood circulation of skin and bone, and to filter it out as an interfering signal, so-called short channels are can be used. At the same time, short channels also serve as detectors, but with the difference that they should have a maximum distance of 10 mm from the sources to make sure only extra-cerebral light is received.
By using light and the associated measurement of hemoglobin, fNIRS measures so-called hemodynamic responses to shown stimuli. This is the same phenomenon as measured by functional magnetic resonance imaging (fMRI), but unlike fMRI, fNIRS can be used in a natural environment. This is particularly advantageous for IS, since effects are often not independent and isolated from each other.
Studienablauf und Studienteilnahme
An unseren Studien teilnehmen und jedes mal 10€ verdienen.
Info für Studierende - Probanden gesucht!
In unserem Lab führen wir viele verschiedene Studien durch und dafür brauchen wir natürlich immer auch Probanden! Und hier kommt ihr ins Spiel - an unseren Studien kann grundsätzlich jeder teilnehmen. Bei Teilnahme bekommt ihr die Zeit die ihr aufwendet natürlich auch entgolten - dabei lehnt sich die Höhe der Bezahlung an die Dauer der Studie an. Wenn ihr z.B. 45-60 Minuten teilnehmen müsst, so bekommt ihr eine Vergütung von 10€ dafür.
Wie unsere Studien grundsätzlich ablaufen:

Ein paar Beispiele zu den Aufgaben, die ihr in unseren Studien machen müsst:
Ihr schaut euch verschiedene Webseiten an und bewertet diese anhand bestimmter Kriterien
Oder ihr benutzt eine Webseite, um online etwas einzukaufen
Oder ihr bekommt die Aufgabe, etwas auswendig zu lernen mit verschiedenen Medien, um zu schauen welches Medium euch besser beim lernen unterstützt
Oder ihr schaut euch Bilder oder Videos zu Robotern an und dürft diese bewerte.
Um Proband zu werden müsst ihr euch nur in das folgende Formular eintragen und schon seid ihr dabei!
Technische Lab Ausstattung und Anwendungsgebiete
Technical specifications of the lab:
Mobile NIRSport from NIRX with 8 sources & 8 detectors, plus additional 8 short-channel detectors

All optodes can be equipped with spring-loaded optode holders

Wavelengths of light are 760nm and 850nm

Sampling rate is 7.81Hz

For recording, a Lenovo ThinkPad (Intel i5 @1.8GHz, 16GB RAM) with appropriate software is available (NIRStar, NIRSite, nirsLab, NIRStim, Matlab Brain AnalyzIR Toolbox, Homer2)
Fields of application (examples):
Measuring the effect of graphical user interfaces on users with different foci, e.g. trust, user experience, cognitive load etc.

Measurement of mobile applications in their context (e.g. apps), as we have a mobile fNIRS that can be used with backpack

Consequently, customer reactions and experiences in physical stores could be measured to improve the store layout with this data

It would also be possible to measure interpersonal actions, for example in IT project management teams
eLearning
eLearning methods & their effectiveness in the context of enterprise systems: In this project's context, the processing of eLearning content in the brain is to be reproduced with the help of fNIRS. This should improve the efficiency and effectiveness of certain learning methods for the context of enterprise systems training by observing the human learning processes on a neural level.
(Your contact person for this: Mareen Wienand)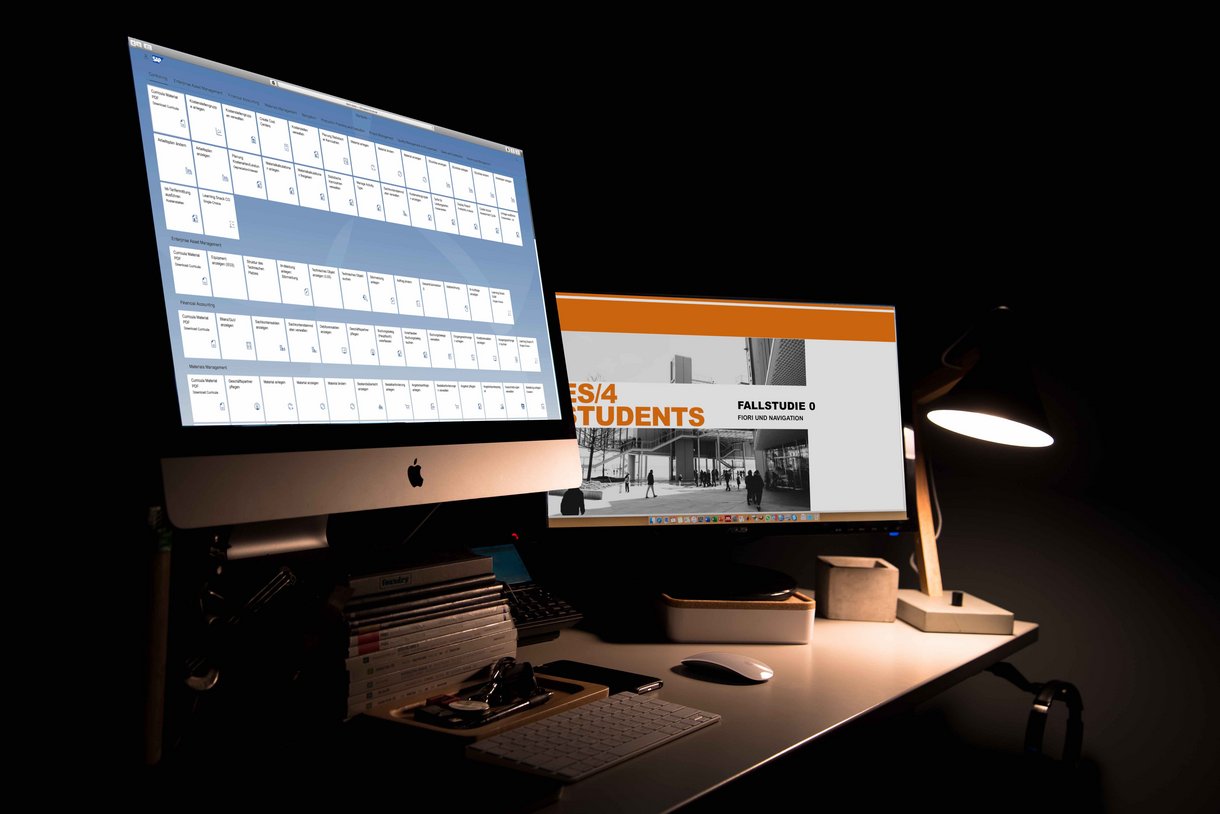 User Experience:
User Experience & information processing of graphical user interfaces: At this point, we investigate the effects of certain design characteristics of graphical user interfaces. The current focus lies on ecommerce websites and their graphical design. We also differentiate between the first impression and the first use, as well as investigate to what extent expectations change after the first use. In addition to user surveys and questionnaires, fNIRS is used to collect data which provide more in-depth insights into human information processing.
(Your contact for this: Anika Nissen)
Consumer Experience:
Digital Customer Experience & In-Store Experience: in the frame of this project, we investigate both online and offline customer experiences, for example while customers are visiting a website or strolling through a store in the city. Due to the mobility of the fNIRS, both use cases are possible, which allows us to conduct optimal field research. This helps us to measure the use of digital nudges on websites, or digital signages or nudges in supermarkets and thus, evaluate their effectiveness.
Social cognitive processing in Human-Robot Interactions:
Social cognitive processing in Human-Robot Interactions: In this research project, we investigate social categorizations and possible bias humans have against social robots. These processes might further heavily impact our interactions with robots. First, preliminary results in studies without fNIRS have already pointed to possible differences in the perceptions of robots and humans. Consequently, follow-up research including neural measurements by means of fNIRS are planned to gain deeper insights into general social processing of robots, the theory of mind, and the uncanny valley effect in human-robot interactions.
(Your contact person for this is Anika Nissen in cooperation with Katharina Jahn from University Siegen)