Das Innovation Lab an der Universität Duisburg-Essen
Kompetenzenfelder des Labs
Digitalisierung 
Internet of Things (IoT)
Künstliche Intelligenz
Big Data
Big-Data-Analysen
Business Intelligence und Business Analytics
Preis-, Sortiments-, Promotion-Management
Neue Architekturen für Enterprise Systems 
Unterstütze Projekte und Veranstaltungen
Enterprise Systems for Students
Systemlandschaft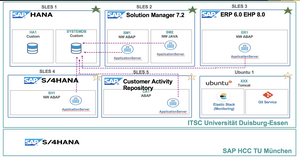 Folgende Systemlandschaft stehen den Forschungsprojekten zur Verfügung:
SAP HANA Plattform (2 TB RAM Memory für Big Data Analysen)
SAP Enterprise Resource Management ERP 6.0 EHP 8.0
SAP Solution Manager 7.2
SAP S/4 HANA (in Zusammenarbeit mit dem SAP HCC)
Forschungsprojekte
Forschungsprojekte in der Umsetzung:
"Standortbasierte Preisdifferenzierung" (Studierendenprojekt)
Analyse von Wettbewerbspreisen im Rahmen des Preismanagements im Einzelhandel (Studierendenprojekt)
"Streaming Analytics im Einzelhandel" (Forschungsprojekt)
Bearbeitete Forschungsprojekte:
Intention of the SAP University Alliances
The SAP University Alliances in cooperation with the SAP University Innovation Centers offers researchers the opportunity to do Big Data research based on the SAP HANA Platform. SAP University Alliances is a global program enabling more than 3,200 educational institutions in over 111 countries to integrate the latest SAP technologies into teaching. Learning resources on SAP Leonardo and other SAP solutions enhance how faculty prepare the next generation with knowledge and skills for the digital future.
Arbeiten Sie mit uns zusammen
Für Studierende
Interessierte Studierende können sich jederzeit für die ausgeschriebenen Abschlussarbeiten oder Projekte bewerben.
Für Unternehmen, Verbände und Organisationen
Gerne bieten wir Ihnen unsere Kompetenzen im Rahmen von Forschungs- und Drittmittelprojekten an. Stellen Sie einfach Ihre Anfrage an: <link>Felix Weber