Chair of Business Informatics and Integrated Information Systems
Profile of the Chair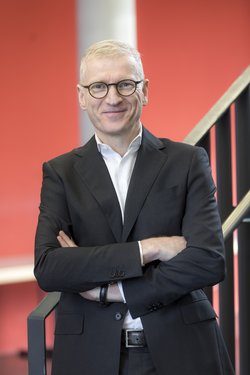 Over the past two decades the technological evolution - among other factors - had and still has an impact on the progress in business informatics research. Both universities and economic practice promote this evolution. In the context of digitizing value chains, the interdigitation of information and object expands which demands an increase in the integration of domain and application system. Thereby, it is of importance that the independent examination of application systems for fulfilling business requirements becomes obsolete as entrepreneurial activities are progressively infused by application systems.
Nevertheless, the implications and consequences that arise from the use of information technology are barely analyzed and results are rarely translated in practical lines of action. From time to time, the analytics of cause-effect relationships is lacking; the corresponding thoughts on profitability in theory (that result in effect-defective decision models) remain empty. The situational effect of application systems demands a broad empirical basis to formulate generalizable cause-effect relationships. As a result, pragmatic recommendations fail due to a lack of in-depth knowledge about cause-effect relationships.
This is precisely the point where our Chair researches either on its own or with partners from practice to set new priorities. In Germany, expertise about operating large application systems in business practice is not pronounced in this form by any other professorship. At the same time, we suggest that the digitization can be a major part of Business Informatics.
| Professor + Research assistants | Day of the week | Time of day |
| --- | --- | --- |
| Prof. Reinhard Schütte | Thursday | 11:45 am - 12:45 am |
| Marek Holze | Thursday | 2:00 pm - 3:00 pm |
| Michel Muschkiet | According to agreement |   |
| Anika Nissen | According to agreement |   |
| Sarah Seufert | Wednesday | 10:00 am - 11:00 am |
| Felix Weber | According to agreement |   |
| Mareen Wienand | According to agreement |   |
| Tobias Wulfert | Monday | 11:00 am - 12:00 am |
Please announce your participation in a consultation briefly by mail. Thank you!