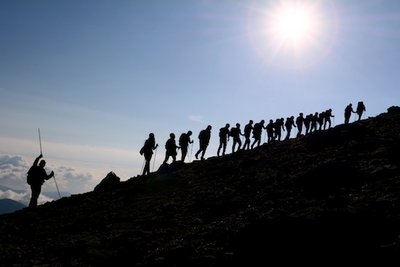 Bachelor - Vorlesung
Enterprise Transformation (ET)
Lecturer:

Prof. Dr. Reinhard Schütte

Contact:

Term:

Summer Semester 2016

Cycle:

Sommersemester

Time:

Donnerstag 08 - 10 Uhr

Room:

S05 T00 B42

Start:

21.04.2016

Language:

German

LSF:

Participants:

Linked Lectures:
Description:
Die Studierenden sollen in der Vorlesung ein Verständnis dafür entwickeln, was es bedeutet, in einem Unternehmen einen grundlegenden Wandel in Folge der Digitalisierung umzusetzen. Dazu gehören sowohl das Management technischer als auch das von sozialen Systemen.
Learning Targets:
Die Studierenden
kennen die Ziele und Aufgaben von Transformationsprojekten in Unternehmen
erlangen ein grundlegendes Verständnis für typische technische und soziale Herausforderungen von Transformationsprojekten
sind in der Lage, Widerstände in Unternehmen aus einer theoretischen Perspektive heraus einzuordnen, zu bewerten und Handlungsempfehlungen abzuleiten
Outline:
Grundlagen von Transformationsprojekten
Ebenen der Transformation und Architekturen zur Beschreibung von Enterprise-Transformationen
Einflussfaktoren außerhalb und innerhalb des Unternehmen
Beschreibungs- und Gestaltungskonzepte des Transformationsmanagements
Vorgehensmodelle
Widerstandsarten
Theoretische Überlegungen zur Beschreibung der Widerstände
Modelle und Methoden, Erfahrungen
Erfolgsfaktoren der Transformation

Implementierungscontrolling
Literature:
Matt, C.; Hess, T.; Benlian, A.: Digital Transformation Strategies. In Business and Information Systems Engineering. Springer, Wiesbaden 2010, S. 339-343
Mannsfeld, M.N.: Innovatoren. Individuen im Innovationsmanagement. Wiesbaden 2011.
Hanna, N.K.: Enabling Enterprise Transformation- Business and Grassroots Innovation for the knowledge economy. Springer, New York 2010.
Lauer, T.: Change Management. Grundlagen und Erfolgsfaktoren. Wiesbaden 2011.
Pescher, J.: Change Management. Taxonomie und Erfolgsauswirkungen. Wiesbaden 2010.
Uhl, A.; Gollenia, L. A.: Digital Enterprise Transformation- A Business-Driven Approach to Leveraging Innovative IT. Gower, 2014. ISBN: 978-1-4724-4854-5
Rouse, William B.: A Theory to Enterprise Transformation. In Systems Engineering, Vol. 8, No. 4, 2005, S. 279-295
Methods of Assessment:
Zum Modul erfolgt eine modulbezogene Prüfung in der Gestalt einer Klausur (in der Regel 60-90 Minuten).